Portable Dog Pool
$21.99 $43.99
You Save: 50%
ORDER TODAY & GET FREE SHIPPING!
100% NO-RISK MONEY-BACK GUARANTEE
"On a hot day and I'm busy getting the car ready, the dogs are playing. I'm driving down the road and look in the rearview mirror and chuckle. The German Shepherd knows how to stay cool by dunking her head in the pool as she is walking around in it. Filling the pool with her is hilarious!"
~ Emmett G., Nueby customer
Provide your pet with a fun place to cool off by letting it swim in our premium and heavy-duty dog pool.
With its large and spacious design, the dog swimming pool gives your pet enough room to fully submerge its body and exercise its legs.
Equipped with an anti-slip interior, the pet pool ensures outstanding safety for your pet no matter how active he or she is. It comes with high walls that enable you to fill it up with enough water for larger dogs to lounge in.
Best part of all, this dog play pool can be folded flat so that you can pack it away and take it anywhere without a hassle. Give your pet some relief during hot summer days by letting him or her swim in our premium portable paw pool.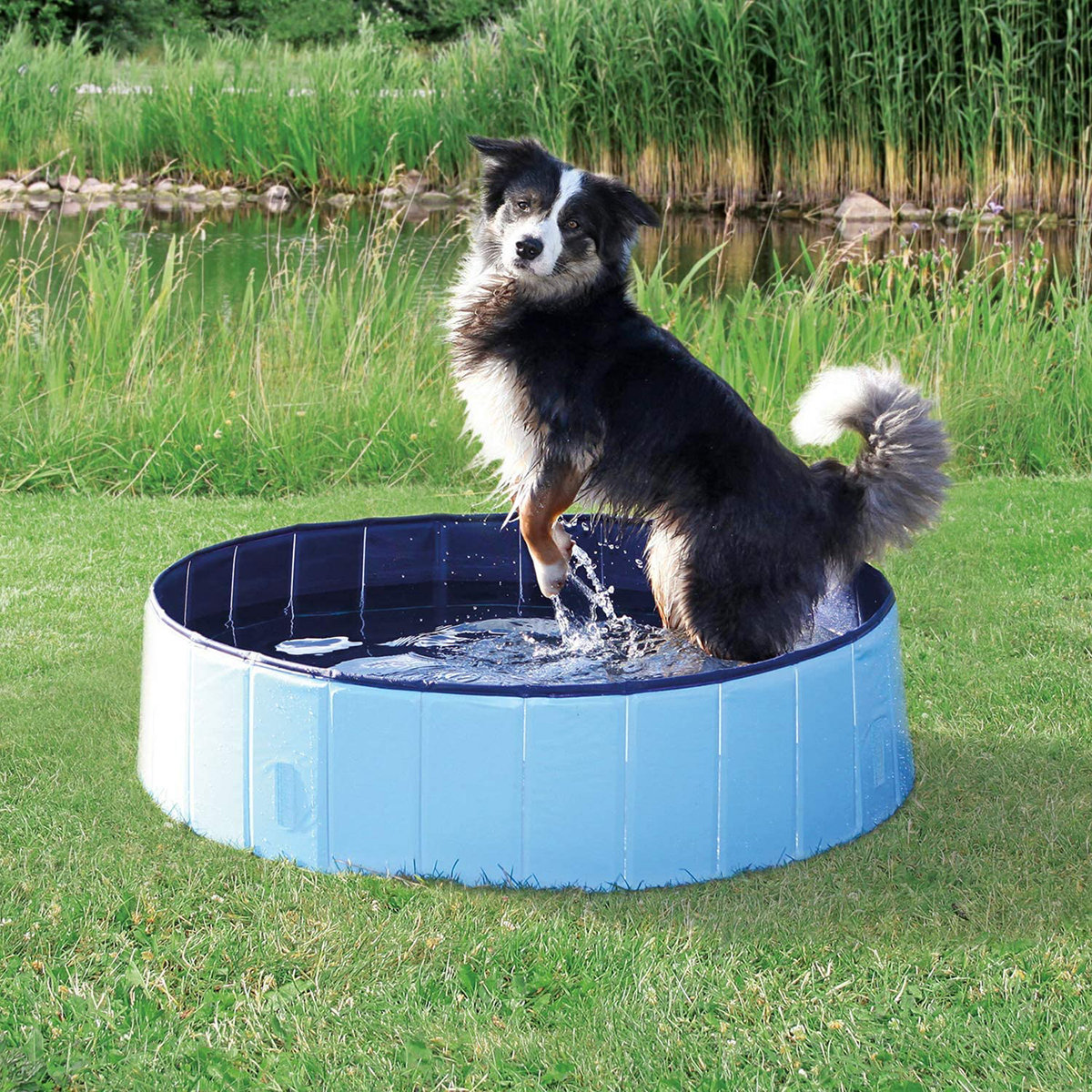 "We bought this for our water-loving puppy, and we could not be happier! The pool is the perfect size for our pup to move around comfortably, lay down, etc., and it's even large enough to also fit our family's black lab. We HIGHLY recommend it!"
~ Robbie B., Nueby customer
Portable: Pet swimming pool adopts convenient fold-down design, making it easy to store and carry when outdoors or traveling.
Easy To Drain: Dogs bath pool comes with a plastic drainage valve at the lower position. just open the valve, you will empty the water easily. You don't need to take much effort to pour water
Cool And Fun: This swimming pool provide a cool place for your lovely dog to play or bathe in the outdoors. It also can be used as a outdoor water pond, sandbox, kiddie pool and so on.
Durable: Made of extra-tough PVC, it thick on the side and thicker material on the bottom
Size Chart:
| Size L x H | Suitable for Pets | Weight |
| --- | --- | --- |
| 30x10cm | 0-8kg | 30.2kg |
| 60x20cm | 0-15kg | 0.8kg |
| 80x20cm | 0-30kg | 1.2kg |
| 80x30cm | 0-40kg | 1.7kg |
| 120x30cm | 0-60 | 3.4kg |
| 160x30cm | 0-80kg | 3.8kg |
Specifications:
✓ Type: Foldable Dog Bath
✓ Diameter: 80cm
✓ Material: PVC
✓ Height:20cm
Included:
— 1 X Portable Dog Pool