Pocket RC Robot
$27.99 $55.99
You Save: 50%
ORDER TODAY & GET FREE SHIPPING!
100% NO-RISK MONEY-BACK GUARANTEE
"I am smitten by this cute little robot! I love how it sings, dances, and talks to you. Such a cool toy."
~ Tina T., Nueby customer
Say Goodbye To Loneliness With Your Tiny Talking Friend!
Introducing the Pocket RC Robot a cute little companion that fits in your pocket and offers hours of fun and entertainment!
Its charming eyes light up and its arms rotate flexibly with every command, creating an insightful and responsive robotic interaction.
Your Pocket RC Robot loves to listen to your voice and even repeat it back in its own robotic tones. Become friends with your robot by talking directly to him he'll recognize your voice and reply to you!
The fun doesn't end there! With Entertainment Mode, your Pocket RC Robot can dance and sing with you. He can also tell stories or show off his slides. It will be so much fun!
The Pocket RC Robot is the perfect addition to everyone's life why not take him home today? He will bring endless joy and entertainment for moments of pure delight.
"This Pocket RC Robot is so cute! my whole family loves playing with it. It's like having your own little companion."
~ Whitney H., Nueby customer
Watch this Mini Robot dance, talk and sing for you!
Repeat Mode: Designed to make life easier. Record your voice and the robot repeats what you say in robotic sound effects! And no more annoying noises as the robot speaks clearly and without distortion.
Conversation Mode: The robot recognizes your voice, responds to questions, and commenting on its surroundings. A perfect companion whether alone at home or out in public!
Entertainment Mode: So much fun! Watch this amazing little robot slide, sing, dance, tell stories or listen to music with you. Offering endless entertainment that brings laughter into every home.
Smart Appearance: Impress your friends with this pocket-sized robot! 85mm tall and built with an expressive face, bright flashing eyes, and movable arms for lifelike movements. An ideal choice for any ages.
The perfect size to carry along wherever you go!
✓Interactive communication, singing, dancing, LED light, tells stories, and more!
✓ Robot is a mini-sized 85mm that you can hold it in hands
✓ Robot's eyes flash happily with different commands and the arms of the robot can rotate flexibly
✓ Very easy to carry as it is small and compact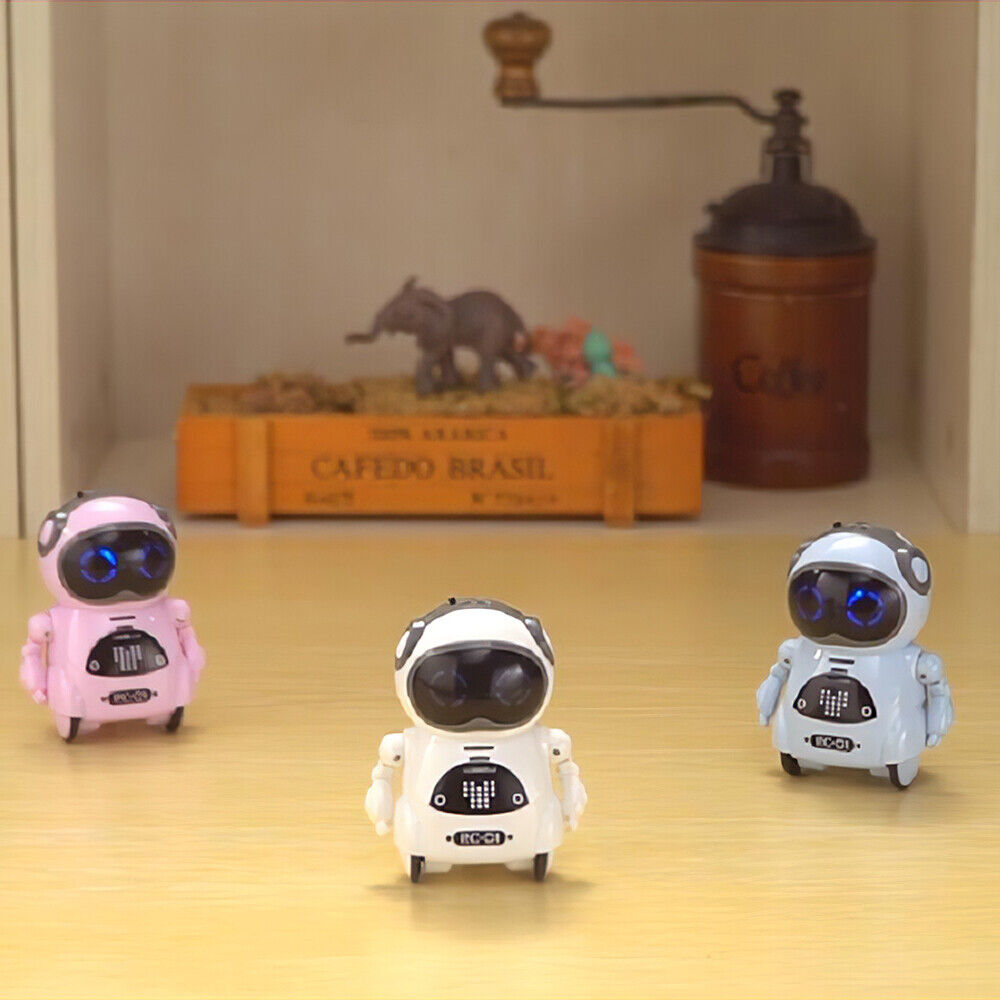 Specifications:
✓ Material: ABS
✓ Battery: 1 x AAA Battery(not included)
✓ Size: 85 x 65 x 50mm
✓ Material: ABS+Silicone+Electronic Components
✓ Weight: 53g
Included:
- 1 X Pocket RC Robot
- 1 X Manual